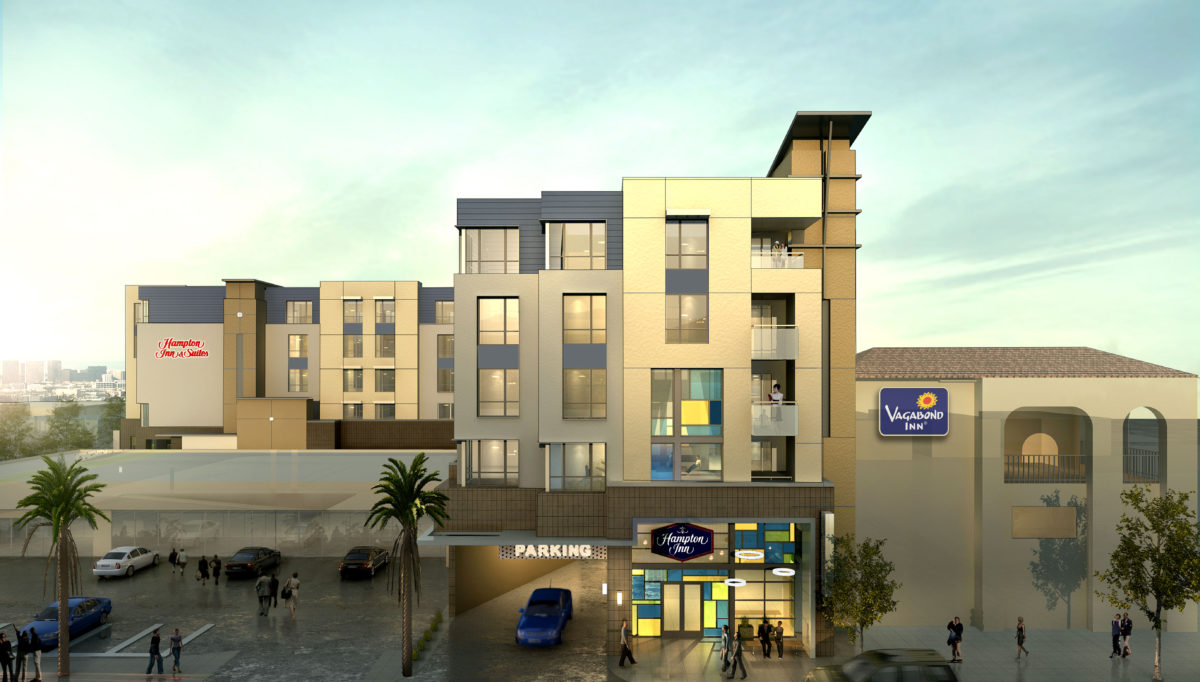 January 22, 2015 - Comments Off on Hampton Inn & Suites Construction Begins in Glendale, CA
Vista Investments, LLC, the local developer and shareholder behind the Glendale Hampton Inn project, has started construction on the 5-story, 94-room hotel.  With grading complete, Vista is currently in the process of excavation and setting up shoring before pouring the foundation.  Once complete, the hotel will feature an elevated outdoor pool deck, lounge seating surrounding an outdoor fireplace, and a state of the art fitness center for the health conscious guest.  The urban façade will comprise of brick, metal, glass, and stucco, to fit right in with the newest developments in the neighborhood.
Located at the corner of Colorado St and Brand Blvd, the development is situated in a prime location next to the Americana at Brand shopping community.  Upon its anticipated opening scheduled for early 2016, Vista Investments expects the hotel to quickly become a face of the up and coming Downtown Glendale area.  Vista Investments President & CEO, Juan Llaca stated,  "We are excited to have the opportunity to develop this hotel in Downtown Glendale, as we believe this area has unlimited potential as a tourist attraction and is on its way to becoming a Los Angeles hotspot".
The project presented many design challenges for Vista Investments including providing parking for 89 vehicles on 2 levels, access to the hotel from both Colorado St and Brand Blvd, and installing an outdoor pool.  Using decades of successful experience in hotel real estate, which includes currently operating the Vagabond Inn Franchise Company, the project was able to get off the ground quickly with swift approval.  Their seasoned experience coupled with the assistance from the City of Glendale during the entitlement process and as well as RD Olson Construction will ensure a great project for the city to enjoy.